ABOUT
US
Nanak Marble and Granite is one of India's leading Manufacturer and Exporter of Marble and Granite with majority of its presence in Rajasthan and New Delhi. The company offers a comprehensive range of marble and granite with fine finishes and exclusive designs to meet our client's needs.
NM Marbles has a rich history of 30 years of delivering the largest production of Natural Indian stone globally. Our precise selection and never-ending search for perfection, only let the most luxurious stones find their way back to you.
With the commitment of delivering the best. Our team of seasoned natural stone specialists developed and executed original solutions tailored to our 1 million+ clients to meet their project's requirements so far.
Some of our most demanding products are Bruno White Marble, Rajasthan Black Granite, Galaxy Black Granite, Paradiso Granite, Commando Black Granite and Tiger Skin Pattern Granite.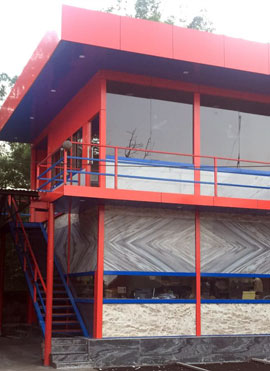 WHY US?
We regard no task to be too little, whether you're searching for new countertops to bring your home to life or a firm that wants to fit out a whole workplace.
With any of your requirements, our team of professionals can provide a unique solution based on our years of expertise in sourcing the appropriate materials. We make sure that every step of the procedure is done with care and attention to detail. For our team, the most crucial criteria are quality and your satisfaction.
With our advisors who can assist you in the selection of materials according to your custom needs, our goal is to create and install high-quality stonework.
QUARRIES
Bruno White Marble
Rajasthan Black Granite
Paradiso Granite
Galaxy Black Granite
Commando Black Granite
Tiger Skin Pattern Granite
FACTORIES
Udaipur
Banswara
Nathdwara
Ramaliya
WHOLESALE & RETAIL
New Delhi
Udaipur
Banswara
Nathdwara
Ramaliya